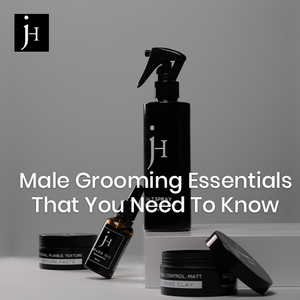 Male Grooming Essentials That You Need To Know
Having healthy skin and hair never goes out of fashion. Moreover, it is proven that if you start taking good care of yourself at an early age, you can experience graceful ageing. Hence, it is important to start early and invest in good skincare and haircare products. You don't even have to spend a fortune to get good products. All you need to do is select some basic grooming products and be religious with them. Moreover, visiting a reputable male grooming place can help you learn a lot about good products. 
Here, we have some male grooming essentials for you that will offer you a kickstart in your self-care routine!
Some Must-Have Products For Skin & Hair
As mentioned above, you don't have to buy expensive products to make sure you have good skin or hair. You just need to be consistent with your routine and take good care of yourself from the very start. Some must-have products for male grooming are listed below:
Eye cream
Hand cream
A daytime moisturiser with SPF
Night-time moisturiser with retinol
Skin toner
Hydrating serum
Cleanser
Antiperspirant
Cologne
Shaving cream
Beard oil (if you have a beard)
Hair clay or paste
Shampoo & conditioner
With these basic products, you can rest assured that your skin and hair will be moisturised and healthy at all times. A hair clay or paste will give a natural shine to your hair while keeping it neat and clean. You can choose the products according to your hair and skin type as well as your budget. However, make sure you buy them from a good online or offline store so that you can see efficient results over time.
A Good Skin Care Routine
Once you have the right products with you, it is important to use them regularly and follow a good skincare routine in the morning and night. You can have a short routine in the morning since we usually have a lot on our plates when we start our day. So, you can wash your face with cold water and then apply some skin toner after patting your skin dry. After that, you can put some hydrating serum on your face. Depending on the weather and skin type, you can decide the hydration level of your serum.
Furthermore, you can put some daytime cream with SPF before you go out in the sun. If your day cream does not have sun protection, you must buy a sun protection cream and put it on top of your moisturising cream before leaving your house. It is very important to use a good sun protection cream to safeguard your skin from any UV ray damage.
In addition to a good daytime skincare routine, it is crucial to have a nice nighttime skincare routine. For this, you should take some time to cleanse your face and then apply a decent amount of toner. Then, let your skin breathe for some time so that the toner is soaked in properly. After that, you can put on your serum, eye cream, and nighttime moisturiser. Again, if your skin is oily, you can skip the serum and just put on a moisturiser.
If you follow this routine regularly, you are bound to have great skin in the long run.
A Good Hair Care Routine
Haircare is as important as skincare when it comes to maintaining a groomed and healthy appearance. However, at times, it is easy to neglect the health and nutrition needed by your hair. The good thing is that it does not take a lot to maintain a good hair care routine or nourished hair and scalp.
Shower with lukewarm water.
Never take scalding hot showers, as they will strip your hair of all its natural oils. It might feel good to shower with piping hot water, but it completely dries out your hair and makes it more prone to split ends and frizziness. Consider showering with lukewarm water for best results.
Always use sulfate-free products.
Most inexpensive shampoos contain sulfates. For instance, you will see this compound in the ingredients list on the back of the product under the name sodium lauryl sulfate. This compound essentially allows the shampoo to create more suds and foam because people usually believe that a shampoo that makes a lot of suds cleans the hair better. However, this chemical can do more harm than good in the long run.
Most men tend to shampoo their hair every time they take a shower. However, this is completely unnecessary and damaging to the hair. Even if you use sulfate-free shampoos, you will end up getting rid of all the natural oils on your scalp and in your hair. Hence, don't shampoo every time you take a shower and consider simply rinsing your hair with plain water rather than using a hair cleanser every single day.
Don't forget to use a conditioner.
Conditioners can help your hair considerably as they are designed to protect your hair and moisturise them after a thorough cleaning using shampoo. A conditioner settles down, soothes the hair cuticles, and smoothes them down to make your hair soft and manageable. Using a conditioner can especially prove to be useful for men with curly hair. 
Contact Jamie Holgate For The Ultimate Male Grooming Experience!
If you are looking for a good place to get an all-inclusive hair treatment, you must definitely get in touch with Holgate Jamie. Jamie Holgate barber services are top-notch, and here, you will find all you seek when it comes to male grooming. Visit https://jamieholgate.com for more details and to book an appointment effortlessly!
---